Andy is currently 36 months old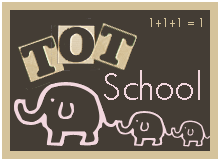 Our theme for last week's Tot School was 'Farm Animals' continuing on from the same theme the week before.
The main things we worked on were our Big Barn Farm Activity Book that Andy received for his birthday from Aunty Lucille, a wooden farmyard puzzle (also a gift from thoughtful Aunty Lucille) and our lapbook and file folder games. We incorporated most of the Big Barn Farm book into our 'Farm Animals Lapbook' with exception to the back cover which unfolded into a farm scenario which I'll show pics of shortly...
Playing with his Animal Homes Match file folder game we made and later added to our lapbook...
We start off everyday with our Bible lapbook and toddler Bible and read Bible stories...
After each Bible story we read Andy puts a sticker in the block on the bookmarks. This lapbook is from
LapbookLessons
...
This is the back cover of the Big Barn Farm Activity Book which we cut out and...
Made into this neat farm scenario with farm animals on stands. Andy had SO MUCH FUN with this...
Playing with his wooden farmyard puzzle...
Painting a piggy craft for the back cover of his lapbook...
A bit off theme - but working a bit on his Oceans Lapbook which is still an ongoing project...
Playing with Animal Shadows match game in his Farm Animals Lapbook...
His little neighbour comes over once or twice a week to play and he thoroughly enjoys it. Tian is 2 years old so it's so lovely that Andy can have contact with someone younger than him as he's the youngest of all his cousins.
Putting mini pom-poms in a ice cube tray with some tweezers. He was very chuffed with himself when the task was completed...
We spent Friday with two of my (housewife) sisters and 3 of his cousins and had a fabulous time!
I made a video of our farmyard lapbook but have yet to figure out how to convert it to be able to put it on youtube so that I can put if on my blog. I'll have that up soon (hopefully) cause that's the main thing we worked on and was LOTS of fun.
Go
here
to see what others have done for Tot School.