Andy is currently 37 months old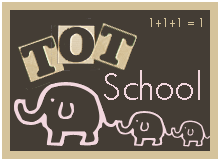 My Tot School posts were getting far too long, and even then I felt like I didn't get in all the details, so this week I did some daily posts so if you're interested in reading them just click on the link I will provide.
Here is a brief overview of our week:

Monday's Tot School
Tuesday's Tot School
Wednesday:
We spent most of the day sorting through cupboards and Andy was a great help. He loved helping me sort out my sewing cupboard and sorted the threads and buttons very nicely...
We also did our
Open Ended Art project
.
Thursday:
We did some random Tot Trays including our
stART project
...
On Friday we spent the whole day visiting my sister and her girls. She hosted their homeschool nature study group in the morning so I baked some choc chip cookies while they were busy and we served it after lunch.
This post was so nice and quick and easy to put together! I find doing daily posts allows me to express everything at my leisure instead of cramming it all into one loooooooooong post once a week. :) And you don't have to read it all if you don't want to. ;)
To see what others have done for Tot School visit
1+1+1=1